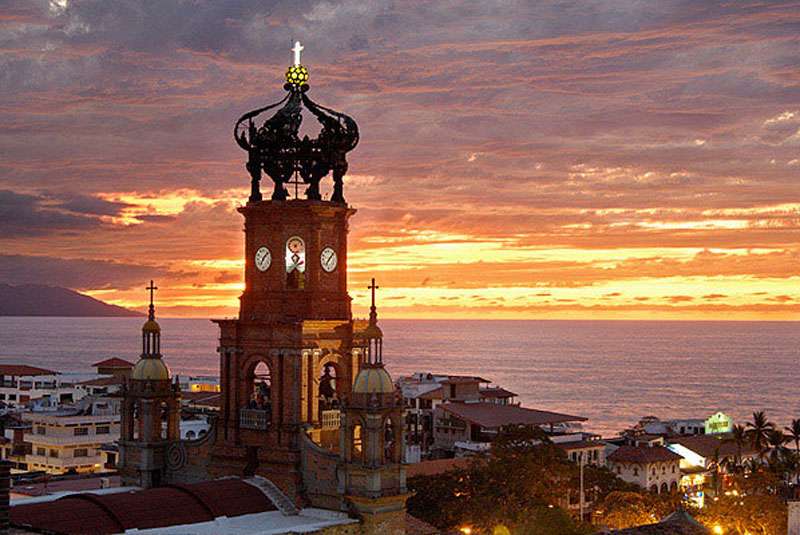 Celebrate Twelve Days in December to Honor the Virgin of Guadalupe
The Church of our Lady of Guadalupe in Puerto Vallarta is a landmark that appears in many postcards, paintings and photos. At this time every year between December 1st and 12th the Church of our Lady of Guadalupe becomes the center of focus for many people who celebrate Mexico's patron saint the Virgin of Guadalupe.
Starting around 5pm each night the street Hidalgo that leads to the church is blocked off to traffic and becomes a pedestrian only zone.
All of the local businesses, restaurants, hotels, bars, nightclubs, schools, associations and even different areas (colonials) of Puerto Vallarta are granted a specific time frame to march with their pilgrimage to the church.
You will find pre-Hispanic dancers and traditionally decorated floats in the street as they form a parade to march in this annual celebration from December 1st -12th to the Church of our Lady of Guadalupe.
In Puerto Vallarta and all of Mexico the biggest celebration is on December 12th when people honor the Virgin Guadalupe with song and dance throughout the night.
Here in Puerto Vallarta the crown on top of the Church of our Lady of Guadalupe is lit up and there is an elaborate fireworks display for all to enjoy.
At the main plaza in front of the Church of our Lady of Guadalupe and in the streets leading up to it you will find all sorts of vendors selling delicious eats and treats.
You will find a variety of tacos, pazole, sopes, ceviche, hot dogs, hamburgers and the list goes on.
For dessert, some of the best tasting cakes and pies you could imagine, and candies from many different regions of Mexico. Bring your appetite and join us in this cultural celebration.