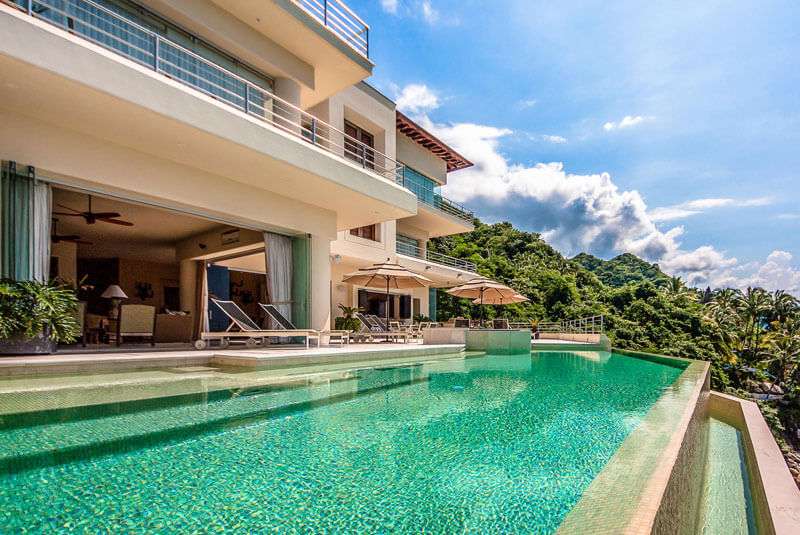 Puerto Vallarta: Your Next Vacation Destination
By J. A. Young
For an extraordinary holiday filled with enchanting Pacific sunsets and a myriad of attractions, the Jalisco seaside town of Puerto Vallarta has all the makings of an unforgettable next vacation. With villas and vacation property rentals to suit every need, travelers have plenty of options when it comes to Puerto Vallarta vacation rentals. In addition, Puerto Vallarta offers pleasure seekers fun in the sun and a wide range of activities that will have them checking their calendars to see how fast they can return!
Puerto Vallarta Luxury Villa Rentals
Renting a luxury villa in Puerto Vallarta is ideal for many travelers who crave the private nature of such accommodations yet with all the amenities one might expect from a full resort.  From villa rentals to vacation condo rentals, this tourist-friendly town is filled with beautiful accommodations that will enhance any vacation. Nearby Punta Mita is also known for its lovely villa rentals. Book a private rental near the seaside; you'll love the scenic splendor of the glittering Banderas Bay, but you'll also thrill at the comfort and privacy of your own vacation villa filled with everything you need to relax and enjoy life Mexican style!
The Beaches of Puerto Vallarta
Many vacationers come to Puerto Vallarta for its dazzling beaches.  If your luxury vacation rental is near the Pacific, you can easily spend your days by the sea enjoying all manner of water sport or simply relax on the sand. Puerto Vallarta has many beaches, of course, and each has its own character. Nature enthusiasts might want to explore the beaches near river outlets which contain less development; on the other hand, many pleasure seekers love the touristy beaches that have all the amenities they'd expect and are filled with other vacationers who have come to enjoy this unparalleled resort town.
Experience the Outdoors
Whether it's swimming in the sun-kissed sea or going sport fishing, the waters off Puerto Vallarta are ideal for vacationers. Snorkeling is popular as are dolphin encounters. Many travelers also enjoy the subtropical forest-lands around Puerto Vallarta; plan a zip-line adventure or go off roading. Many travelers also enjoy waterfall rappelling.
See the Sites
When visiting Puerto Vallarta, be sure to see some of its famous sites and attractions like the marvelous Los Arcos and be sure to stroll along the Malecon, the seaside walkway that boasts magnificent views of the Pacific Ocean. Many vacationers also love to visit the Church of Our Lady of Guadalupe to hear its bells and witness its historic architecture.  The friendly atmosphere of the city is also part of Puerto Vallarta's charm. Vibrant nightlife and delicious food also await travelers who choose Puerto Vallarta for their vacation.
Puerto Vallarta seems designed for vacationers with all its marvelous scenic wonders and exciting things to do. By booking your Puerto Vallarta vacation rental, you can plan a fun-filled itinerary that allows you to experience everything the city has to offer. Plan your holiday today and discover why so many return again and again to this breathtaking Jalisco city.