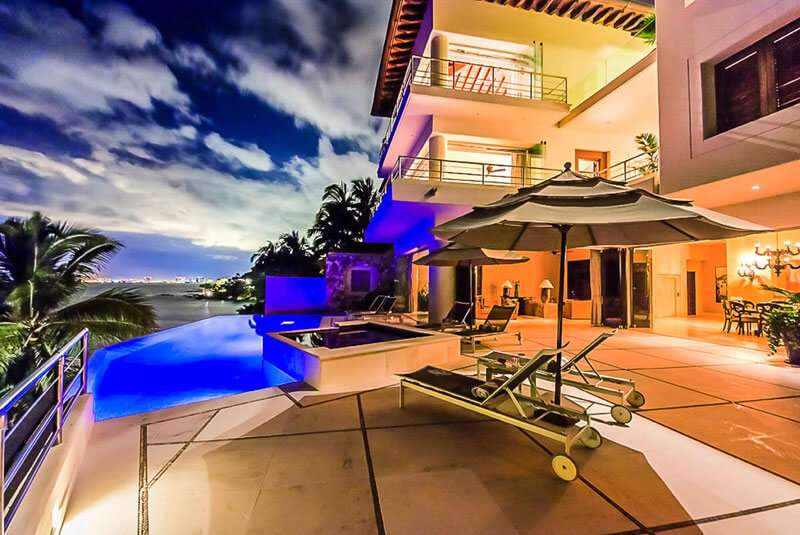 Villa Rentals in Puerto Vallarta
When you're ready to get away from it all and spend your days on the beach and your nights in the clubs, Puerto Vallarta is the place to be. Situated on the Pacific coast of Mexico, Puerto Vallarta is a top-notch tourist destination that provides fun in the sun for singles, couples and families alike. While you're there, you can make your home base in one of the many villas Puerto Vallarta has to offer.
Whether you choose to participate in daring activities like a zip-line tour of local river valley canopies or an undersea adventure such as scuba diving, you'll want a luxurious place to come back to where you can kick back and relax. Fortunately, numerous luxury vacation rentals are available in Puerto Vallarta.
Even if you opt for less demanding excursions like shopping at the stores just off the Malecón, the open-air market Isla Rí o Cuale or the clothing and jewelry stores at Olas Atlas along the beach, you still need a place to refresh yourself afterward. Puerto Vallarta villa rentals offer the ultimate place to cool off before you head out again.
Villa rentals offer accommodations that range provide anywhere from one to 15 bedrooms to accommodate you and your party, no matter what the size. Amazing views, private entertaining areas and beautiful decor are just some of the features that luxury villa rentals provide. At any time of the year, you can visit the Mexican city of Puerto Vallarta and know that the accommodations will meet and exceed your every expectation.
Whether you want to prepare your own gourmet meals in the state-of-the-art kitchen provided in many luxury villa rentals or nip out for a taste of the local cuisine, your culinary demands will be met in Puerto Vallarta. Restaurants like the romantic Agave Grill, the sophisticated, yet casual, Trio or the Vitae Bistro with its European design and decor all provide tasty fare for visitors from near and far.
Tennis, golfing and boating provide pleasurable ways to get in a workout in one of the most lush settings in the world. After a sultry day in the sun, you'll want to return to your base at one of the villas Puerto Vallarta offers to enjoy a cool shower and change of clothes before you scour the streets for excitement.
Enjoy a drink on the private deck or soak in the Jacuzzi before calling it a night and slipping into a cool, comfortable bed fitted with clean sheets. When you want to unwind before bed, slip a DVD into the DVD player that comes with most accommodations or use the free wireless Internet service to surf the web before retiring.
No matter what your lifestyle or vacation plans include, Puerto Vallarta villa rentals provide the luxury that you desire and deserve when you're away from home. Book your accommodations well in advance to ensure that you are able to secure the lodging that meets your high standards. You'll be glad you did.
Save
Save
Save